Blatthalter Set schwarz - 180 CFX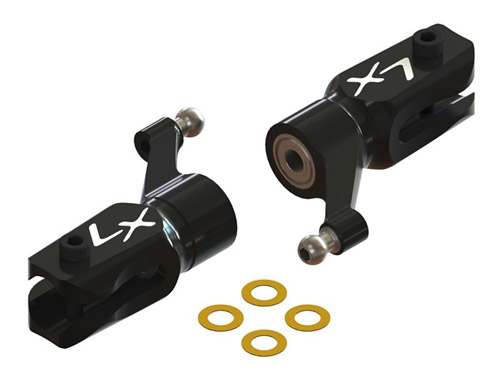 Abbildung kann von Originalware abweichen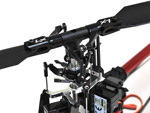 English
Lynx Heli Innovations has redesigned the standard 180CFX plastic main grip, using aluminum alloy.
Micro helicopter upgrades can be a trap – often they look nice but do little for function, and only add weight.
We spent hours optimizing the design to achieve the required strength with a final weight beyond compromise. We are pilots, and we demand a light helicopter.
After many flights and simulation , we decided to " stretch" our main grip 1.5 mm, moving the main blade lock hole position far 1.5mm compare the standard version, this tiny change have amazing positive effect in the heli performance, because increase the rotor disc of 3 mm, giving better pops and more cyclic authority.
The details and design of these blade grips add top performance of your helicopter.
Strength, durability, accurate CNC tolerances, finish, and most important weight.
Almost unbelievable, but this main grip set weighs just 1.8 g heavier than the original plastics grips, with a huge increase in rigidity and strength.
These main grips increase flight precision, flight after flight.
FEATURES:
- These grips are a direct replacement for the standard 180CFX parts.
- Optimized design to assure strong and weight average.
- Stretched design, increase 3 mm main rotor disc diameter, better pops and cyclic authority
TECHNICAL SPECIFICATIONS:
- Main grip material: Aluminum 7075-T6 – anodized finish
- Bearing material: SST – ABEC5
- Hardware: Steel 12.9 Class - DIN 912
- Assembly weight: 5.8g
PACKING LIST:
- 2 x 180CFX – CNC Main Grips – Black Color - preassembled ready to fly
- set of shims for the best fine adjustement assembly
Artikel auf Lager.
Lieferzeit ca. 1 bis 3 Tage*
| | |
| --- | --- |
| Artikelnummer | LX1440 |
| Hersteller | LYNX |
| Packungsgewicht | 0,01 Kg |
| EAN | 10007104 |
---