01.Nov.2005
Feiertag in NRW (Allerheiligen)
Am 1.11. findet wegen des Feiertages kein Versand statt.
31.Oct.2005
Happy Halloween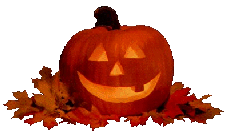 Auf Grund der hohen Ausfall Quote - am Montag 31. Okt sind wir leider nicht telefonisch erreichbar - der Versand wird aber dennoch weiterhin wie gewohnt abgearbeitet.

Wie wünschen allen gruselige Grüße !

09.Sep.2005
freakware Party Tip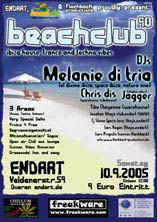 Wir freuen uns wieder eine Party aus der erfolgreichen
Flashback-Productions
Reihe präsentieren zu dürfen :
23.Aug.2005
Videos - AlignRC Fun Fly Nitro Class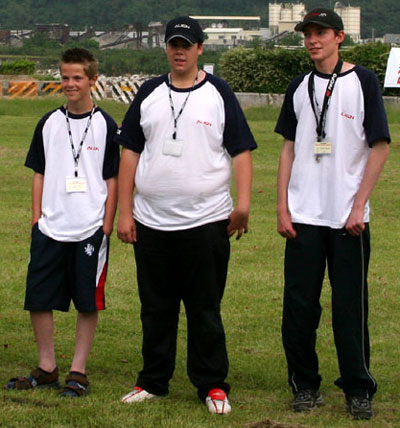 Duncan Osbourn (right)
Steven Gerrard (middle)
Stuart Mott (left)

20.Aug.2005
AlignRC Fun Fly Nitro Class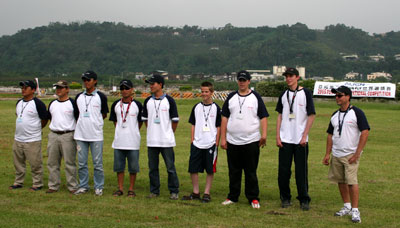 1st. Ducan Osborne (3D Masters 2005) - 2nd. from right
2nd. Stephen Gerhard - 3rd. from right
3rd. Ing-Che Liao
3rd. Henh-Li Cheng

12.Aug.2005
Lieferbar ! Align Carbon Main Frame
Wir sind stolz darauf nun endlich als erster in Europa das Align Carbon Main Frame anzubieten - zu einem unschlagbaren Preis, das ultimative Tuning für den T-Rex X bzw. XL !
11.Aug.2005
Align Electric 3D Contest plus 3D Invitational, Taiwan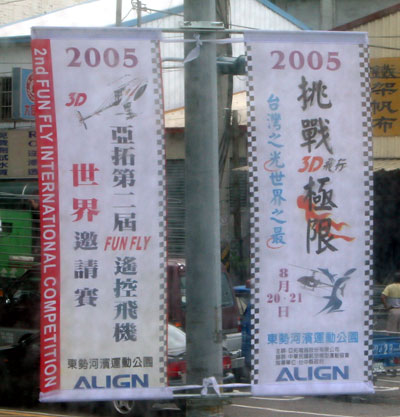 This is Align's (maker of T-Rex) first international competition. The event will be held on August 21, 2005 in central Taiwan. If you have never been to Taiwan before, come see why this island was called Formosa (Portuguese for "beautiful island") while enjoying probably the first all electric heli competition in the world.

There are actually two events occurring that day: one a general fun fly open to the public, second a 3D invitational. There are already some well known attendants such as Jason Krause, Erich Stolz, Duncan Osborne, and Stephen Gerrard.

================================================================

Align International R/C Competition

Date: August 21, 2005.-9:00AM.

Location: DongShi Riverbank Park, Taichung, Taiwan

Demonstration Events:
F3A, F3C, Glow Powered Heli 3D Freestyle, and TOC Demonstrations from International Competitors

Contest Events:

1. Electric Helicopter Fly-to-Music 3D Freestyle
First Place Prize: US$2000
Second Place Prize: US$1500
Third Place Prize: US$1000
-Limited to 400 sized Align T-Rex 450X/XL, 325mm or smaller main rotor, 11.1v lithium polymer battery.
-Special travel/board reimbursement of NT$2000 for top 3 contest winners from past F3C/3D events.
-Duration 5 minutes.
-Please provide choice of music on CD.
-Repair, Parts Replacement, heli substitution not allowed once flight starts.

2. Electric Pylon Race
First Place Prize: NT $15000
Second Place Prize: NT $10000
Third Place Prize: NT $5000
-Speed 400 powered, not limited to Align products
-Most laps around 100 meter pylon course within 3 minutes wins.
-Repair, Parts Replacement, plane substitution not allowed once flight starts.

3. Electric Helicopter Obstacle Course (Limited to 400 sized Align T-Rex)
-All contestants who complete the obstacle course within 2 minutes will receive NT$5000 + brand new T-Rex 450XL kit.
-Prize limited to one per contestant.
-Repair, Parts Replacement, heli substitution not allowed once flight starts.
-Obstacle course similar to what's shown in this video clip, but with only 65% difficulty.
http://www.align.com.tw/bb2/mpeg/jtv001.wmv

- Free registration.-
- Participant may enter any or all 3 events listed above.----------
- Lunch and drinks provided for contestants and friends/relatives.
- Free Align T-shirt and hat for pre-registration prior to August 17, 2005.-Pre-registration available on www.align.com.tw, or at any Align branch offices in Taiwan.
- Free Align T-shirt for walk-in registration with Align products.-Limit one per person.

================================================================


Glow Powered Helicopter 3D Freestyle Invitational.

Event:
1. Special Helicopter 3D Freestyle Competition(Flight to Music)
First prize---US 2,500
Second prize-US 1,500 -
Third prize-- US 1,000-
- Not eligible to participate in 3D contest for general public

Organized by Align Appliances Incorporated. (暫譯 )
Co-sponsored by Taiwan Model Aviation Association. (暫譯 )

-Purpose: To promote the sport of model aviation through competition and demonstration.

- Location and Time:
August 21, 2005, 8:00AM at DongShi Riverbank Park, Taichung, Taiwan

- Contest Rules:
1. Glow or Gas Powered R/C helicopter.-Glow engine from 30 to 90 class, gas engine within 35cc.
2. No metallic main or tail rotor blades allowed.
3. Gyro only allowed on rudder.
4. No external aid allowed on cyclic and collective controls.
5. One rotation per contest.
6. Contestant order will be drawn prior to beginning of contest.-Order may be rearranged upon approval of event organizer.
7. Flight duration: 5 minutes, starting from liftoff.
8. Contestants need to provide music of choice on CD/VCD/DVD.-If none provided, a standard music will be used.
9. Constants must hover the helicopter from preparation area and land at starting area.-During this maneuver, rudder may not rotate past 180 degrees, height may not exceed 2 meters.
10. Should flameout occur on the way to starting area, contestant has a change of restarting within one minute.-Otherwise the contestant will be moved to end of line.
11. Should any component detach from the helicopter during competition routine, contestant must land the helicopter immediately for inspection.-The contestant may restart in this case, but only one instance is allowed.
12.-Point Standards:
- 1. The number of routines performed: 30%
- 2. Difficulties of routines: 30%
- 3. Rhythmic coherence: 30%
- 4. Completion of maneuvers: 10%
13. Points standing will be announced after all contestants have completed their flights.
14. Judges will be Taiwan Model Aviation certified individuals appointed by event organizer.
15. The CEO of Align will be designated as head of judge.-Any protest to rulings must be brought out prior to placement announcement.
16. Prize:
1ST USD 2500
2ST USD 1500
3RD USD 1000
17. Registration deadline: August 17, 2005.
18. Please include full name, helicopter make, frequency used, and contact information (cell phone if available).
19. Online registration available.
20. Registration through FAX: +886-4-23811610
21. For information please contact Mr. Wu: +886-4-23820067, +886-9-17627869


Some Well Known Confirmed Participants:

Jason Krause (US)
1st place 3DMasters 2002
1st place XFC 2003
1st place 3DMasters Masters class 2003

Erich Stolz (US)
1st place Northwest Freestlye Championships 2000
1st place Night Flying-Phoenix 2002

Duncan Osborne(UK)
1st place 3DMasters Masters class 2005

Stephen Gerrard (UK)
3st place 3DMasters expert class 2005

Stuart Mott (UK)
1st place 3DMasters sportsmans class 2005
22.Jun.2005
freakware auf den Raptor Flugtag in Bayern !
17.Jun.2005
Special Weekend Offer !!!
Alle Bestellungen an diesem Wochenende und Innerhalb Deutschlands erhalten Sie mit DHL oder GLS VERSANDKOSTENFREI !!!
Zahlen Sie per Vorkasse, ist die Lieferung für Sie also komplett kostenfrei !
Bei Nachnahme, Kreditkarte und PayPal zahlen Sie nur den Aufpreis für die jeweilige Zahlungsart.

Das Team freakware wünscht allen ein sonniges Wochenende