Hauptrotorkopf Komplettset schwarz - 180 CFX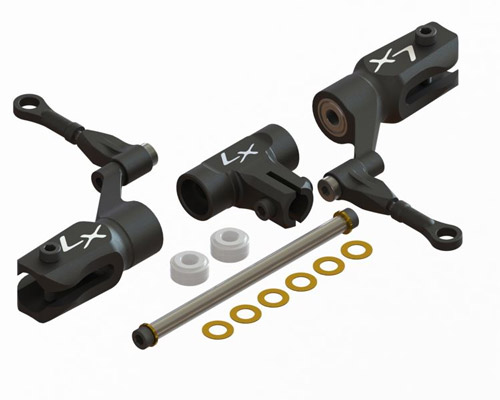 Abbildung kann von Originalware abweichen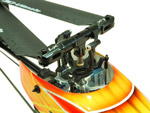 English
Lynx Heli Innovations has redesigned the standard 180CFX head system introducing Direct Flight Control System (DFC).
Thanks a unique, innovative and simple design, we created the ultimate DFC head system for your 180CFX.
We spent time optimizing the design and fly testing to achieve the best fly control and superior resistance in case of crash.
Special rigid and adjustable plastic rods connect swash plate and main grips directly; the same rod assures a precise anti-rotation function.
Thanks those combined DFC rod functions fly input as the FBL unit correction move will be transmit much quickly, without any delay to main grip / main blade increasing fly precision for the ultimate 3D fly.
Our 180CFX DFC system design is based on lightweight, simplicity and efficiently to achieve the best fly enjoyment with the less number of parts.
Lynx 130X DFC Head Set comes fully pre-assembled with Lynx hardened spindle shaft and with a set of Lynx ultra-dampeners that will emphasize the rigid head behavior typical on DFC head system.
FEATURES:
- Direct replacement for the standard 180CFX parts.
- DFC System on your 180CFX
- Optimized design, lightweight rigid and precise fly control
- Super precise on fly and super strong in case of crash.
- FEA (Final Elements Analysis) assisted, achieve lightweight and maximum strength.
TECHNICAL SPECIFICATION:
- DFC Center Hub Material: Aluminum 7075-T6 – anodized finish
- Main Grip Material: Aluminum 7075-T6 – anodized finish
- DFC Rod Material: POM Compound Based with SST thread rod
- Bearing material: Chrome Steel Alloy – ABEC 5 precision class – Made Japan
- Hardware Material: Carbon Steel
- Fully Assembly weight: 10.95 g
PACKING LIST:
- 1 x 180CFX DFC Center Hub - Black
- 2 x LX1438 - 180CFX - Ultra Main Grip Set - Black
- 1 x LX1384 - 180CFX - Carbon Steel Spindle shaft with Ultra Dampeners
All parts comes preassembly ready to for final assembly.
Im Zulauf, in Kürze wieder lieferbar
| | |
| --- | --- |
| Artikelnummer | LX1518 |
| Hersteller | LYNX |
| Packungsgewicht | 0,02 Kg |
| EAN | 10007105 |
---